In this episode all of the little things the season has been setting up start to pay off. A time jump has occurred (they finally went to sleep!) and it is now Saturday morning (everything that has happened in the season so far occurred on Friday).

Ted wants to go to the lighthouse near Farhampton. This is considered a very romantic location by the nosy receptionist (last seen in episode two), who does not want Ted going alone. Lily, frustrated with Marshall's recent revelation to her, tells Ted to stop trying to find the one and "settle" for Cassie (the woman he met in episode six). Ted reluctantly takes Cassie to the lighthouse, despite all of the warning signs telling him not to.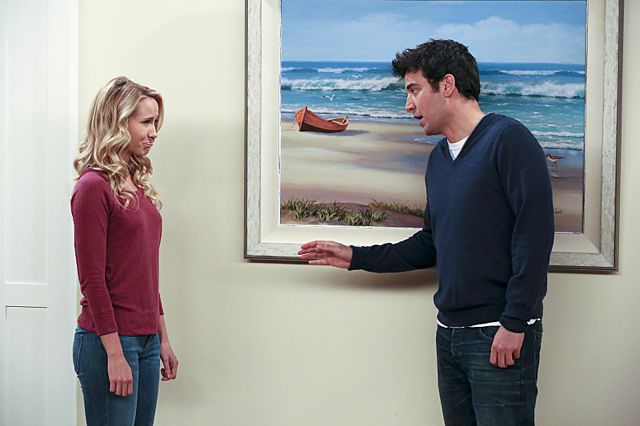 Although not much time was spent on this plot line, the little gem of a flash forward we are given at the end of the episode made it worthwhile. I won't say exactly what happened, but I will tell you it featured the mother!
Marshall and Daphne stay the night in Ted's childhood home with his mother and stepfather (Clint) because of bad weather. Clint decides Marshall and Daphne need some conflict resolution and stows himself away in the back of their car until an opportune moment presents itself. Clint quickly drives Daphne and Marshall up the wall with his guitar, singing, and attempts at conflict resolution. Marshall and Daphne do indeed have some issues between them, but will Clint's presence help or hinder these issues?
Barney wants his mum (Loretta) and Robin to stop fighting, and Loretta agrees to put it behind them if Robin is willing to as well. Of course Robin is not willing and shows up to breakfast in Loretta's favourite blouse (which Robin won from her in a poker game in episode five). This just leads to an escalating war between Loretta and Robin, with Barney once again caught in the middle. In the heat of one of their arguments, Robin reveals something personal about herself to Loretta. Loretta is understandably shocked, and questions Barney's decision to marry Robin. Can Loretta handle this new bit of information, and how will it affect her relationship with Robin?
This seemed like a pretty average episode of How I Met Your Mother… until the last two minutes clearly placed it on the good side of average. It was nice to see 'old' characters and plot lines resurface (and in some cases, be resolved), so I guess this new format isn't that bad, but we are still quite a while away from the wedding…
Review by Heather Bale.