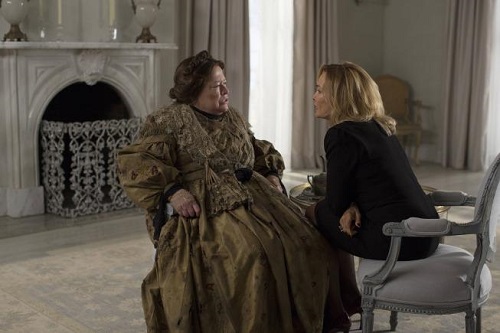 The opening scene of episode two is a nod to 'Deliverance'.
Misty Day, a young girl suspected of witchcraft and burned at the stake, is still living in the swamps where she was murdered.
She has the power to bring the dead back to life and has no time for the cruel gator haters who receive a taste of their own medicine.
Zoe Benson on the other hand may be a good witch, maybe even the next Supreme, but she is absolutely useless at keeping secrets. She tells the police who come knocking on the door that they are all witches before they have even had the time to take a sip of tea. If Zoe is to survive then she needs to get smart, close ranks with her fellow witches and protect each other. Luckily Fiona Goode is on hand to take control of the situation.
Madison shows the first sign of any kindness (well, a creepy, witchy kindness) by placing a spell in a morgue and creating a Frankenstein boyfriend for Zoe. Is it better off to be dead, or alive but at the whim of these young, rebellious witches?
Luckily Fiona Goode, the Supreme, is on hand again and in no mood to let this situation escalate. She is also pretty good at harbouring secrets of her own by keeping the resurrected Madam Delphine La Laurie stashed away in her quarters.
Already we begin to see that Fiona is desperate to hold onto the witchcraft crown for a little longer and to be young and beautiful forever. She can feel the age creeping up every time she looks in the mirror and it will be interesting watching her connive, trick and take what she wants and needs to desperately retain her youth and beauty.
Angela Basset's character the Voodoo Queen is fully introduced in this episode, just as beautiful as she was in the 1700's. She returns with her Minotaur lover from episode one and are preparing for a battle in the darkness.
Oh and did you know?… Stevie Nicks is a white witch?!